Best sellers
Regular price
£4.79
£19.99
Sidebar
Helmet 6D ATR-1 Sonic Orange Charcoal Medium
: Unavailable
: Helmet
: 6D
QUESTIONS & ANSWERS
Have a Question?
Be the first to ask a question about this.
Ask a Question
6D ATR-1 Sonic Helmet Orange Charcoal Size Medium
THE ORIGINAL GAME CHANGER.
6D revolutionized helmet design with the 2013 introduction of the ATR-1 helmet, whose ODS technology set new standards in athlete brain protection by providing protection over a much broader range of energy demands, including both linear and angular acceleration forces. Inspired by 6D's work, some manufacturers have subsequently introduced technology in an effort to address the inherent flaws in traditional designs which 6D exposed. To date, none have achieved the overall performance characteristics of 6D's ODS system. Now, the revolutionary ATR-1's lower price will allow more riders to enjoy the safety benefits and superior protection of the exceptional 6D ATR-1.
ONLY 6D HAS OMNI-DIRECTIONAL SUSPENSION
6D's revolutionary patented Omni-Directional Suspension (ODS) technology represents a fully active, in-helmet suspension and kinetic energy management system. Engineered to uncouple the helmet's exterior shell from the inner EPS liner, the system effectively mitigates energy transfer to the head and brain of the rider during any given accident or impact event. The ODS system is comprised of 2 EPS liners separated by an array of elastomeric isolation dampers that allow the system to sheer and displace 3-dimensionally when subjected to impact.
Omni-Directional Suspension functions over a much broader range of energy demands, including LOW, MID and HIGH-Velocity impacts for both Angular and Linear accelerations when compared to other competing helmets, and helmet technologies.
There is simply no other helmet, or helmet technology that can provide the exceptional energy management benefits of Omni-Directional Suspension.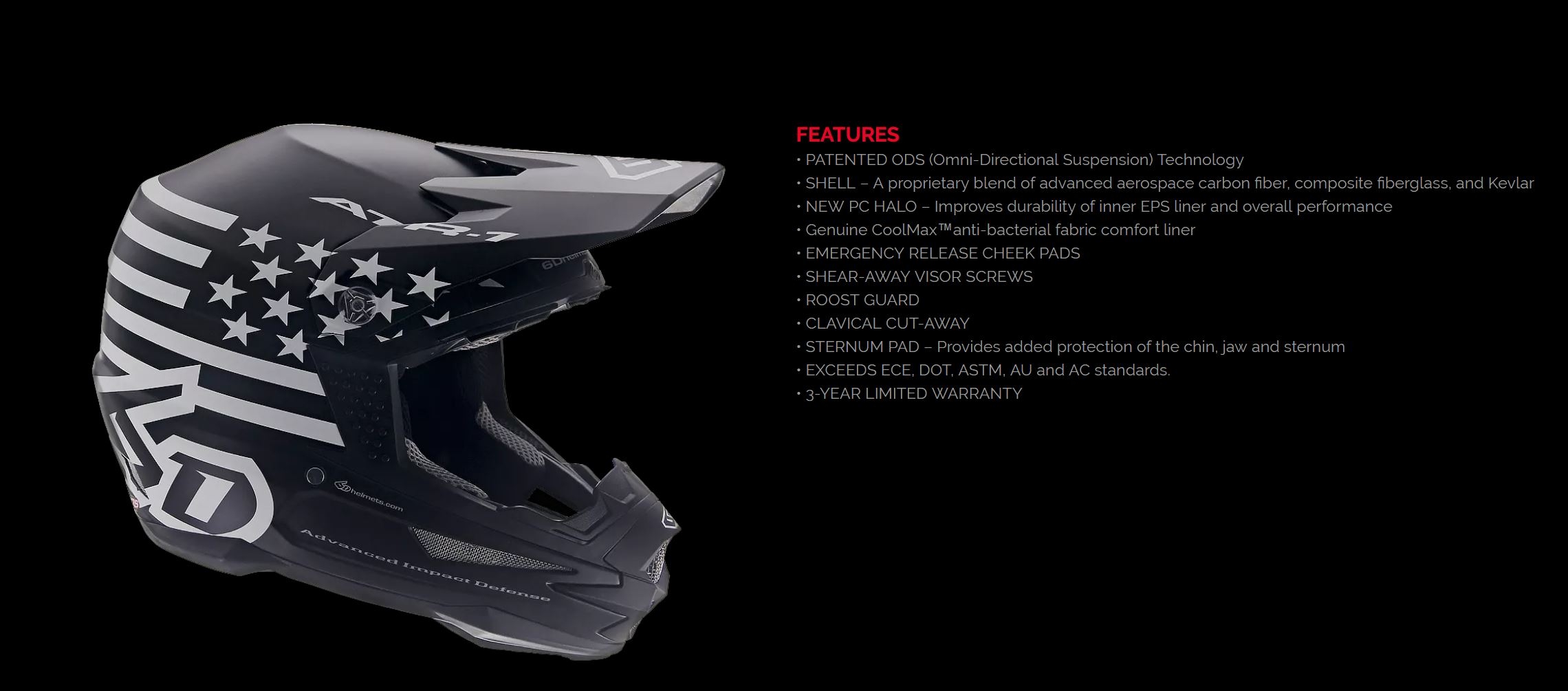 ELASTOMERIC ISOLATION DAMPER
This damper is the heart and soul of 6D's exclusive Omni-Directional Suspension technology. An array of dampers work in unison with the dual EPS liners to isolate impact energy from the brain. The elastic properties of the dampers, combined with their unique 'hourglass' shape provide a progressive spring rate that manages low and mid-velocity accelerations, while simultaneously allowing the inner EPS liner to displace and shear in 3-dimensional space. This omni-directional displacement capability of the EPS liners provides 'six degrees of freedom', which became the inspiration for our company name; '6D Helmets.'
SUPERIOR ANGULAR ACCELERATION MITIGATION
ANGULAR ACCELERATION (ROTATIONAL) is generated from oblique angle impacts to the helmet's surface. The result of this type of impact, and subsequent energy transfer is shearing, tearing, compression, and rotation of the brain within the skull. The medical community has determined that angular acceleration is the primary cause of concussion, mild-traumatic brain injury (MTBI), and traumatic brain injury (TBI).
Tests conducted by Dr. David C. Viano of the Bioengineering Center at Wayne State University concluded that a helmeted head sustained the same degree of angular acceleration as the un-helmeted head when subjected to identical impacts. So, if angular acceleration is a major cause of concussion (or worse), how is the brain protected by conventional helmet design? Unfortunately, in respect to angular acceleration energy, it is not.
By uncoupling the helmet's inner liner assembly from the outer liner and shell, 6D's revolutionary Omni-Directional Suspension (ODS) system effectively mitigates the transfer of angular acceleration to the head and brain of the rider during any impact event.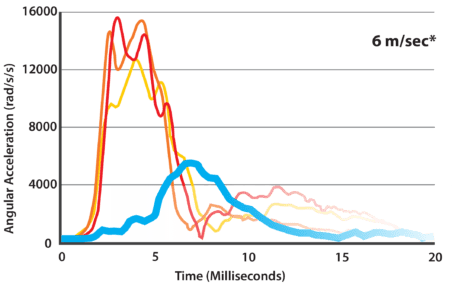 SUPERIOR LOW-SPEED IMPACT PERFORMANCE
Recent medical research has provided alarming conclusions surrounding the causes, severity, and long-term effects of concussions and brain injury. We know that seemingly minor concussions may have much more serious long-term effects on the brain including the onset of CTE (Chronic Traumatic Encephalopathy), a progressive degenerative brain disease. Concussions can occur from impacts in the lower range of 60 G's in adult males, and even less in women and children.
To meet the extreme test velocity requirements of Snell and ECE certification testing, most conventional helmets are engineered too stiff to effectively absorb energy from low and mid-velocity impacts. The vast majority of impacts in real-world accidents are what we qualify as LOW-THRESHOLD ENERGY impacts. These are impacts well below the pass/fail certification velocities of any given standard, but at or above the velocity required to sustain a concussion or brain injury. The isolation dampers within 6D's exclusive Omni-Directional Suspension (ODS) system effectively mitigate low-threshold energy accelerations.
In this critical area of energy management, the 6D ATS-1 pays significant dividends when compared to conventional helmet designs. 6D's proprietary ODS system starts working the instant any force is applied to the shell, making the helmet much more compliant and functional over the highest percentage of real world crash impacts. ODS achieves this benefit without compromise of its high-velocity impact performance as well.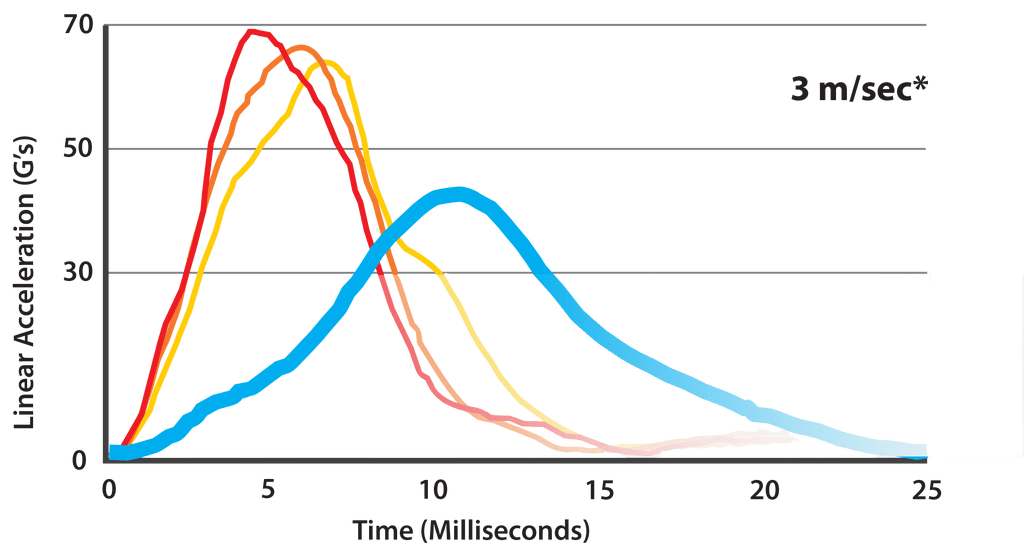 SUPERIOR HIGH-SPEED IMPACT PERFORMANCE
Across the entire range of impact velocities the 6D ATS-1 helmet with Omni-Directional Suspension (ODS) technology consistently outperforms the competition. 6D engineers meticulously evaluate the shell design, shell layup, damper array, damper durometer, and EPS densities to provide the best possible matrix of the materials for superior impact management performance. No other system or technology is more technically advanced or capable of reducing energy transfer to the brain.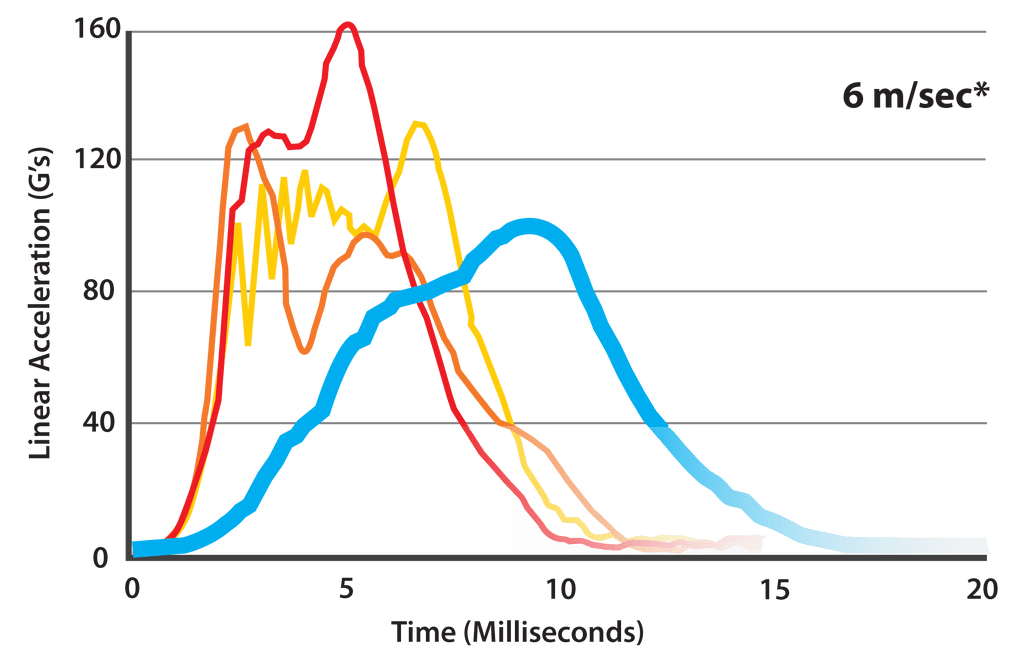 TIME IS EVERYTHING
TIME-TO-PEAK (TTP) is the measurement of time (in milliseconds) it takes the energy of an impact to reach maximum (peak) G force. Deceleration time is the single most beneficial component of reducing the severity and magnitude of any impact. The more time, the less severe the energy transfer will become. 6D's proprietary ODS technology buys time, in fact more than doubles the TTP in most impacts below 6m/s! The really cool news here is the significant reduction in energy transfer that comes simply with time.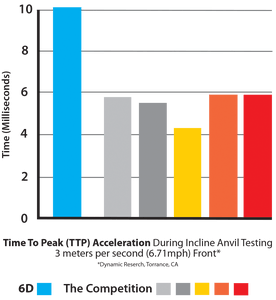 SUPERIOR TEST PERFORMANCE
The exceptional test results represented on this website are the actual test data generated from hours of testing the 6D helmet against current model Snell, ECE and DOT certified helmets in a fully-independent, third party laboratory testing facility; Dynamic Research, located in Torrance, California is a recognized as a leader in helmet testing and evaluation and is a pioneer in measuring and evaluating Angular Acceleration.
UK Orders Free Delivery. All Orders Over £300 From Europe & Scandinavia FREE Shipping
Delivery: Even Strokes use Hermes or DHL depending on the size and value of the order. You will be supplied a tracking number and we will add your email address and phone number to the consignments so you will receive updates putting you in control of your delivery. Our 'Free Postage' includes UK Mainland. All Orders Over £300 From Europe & Scandinavia have FREE Shipping. Charges apply to Ireland, Islands and Scottish Highlands and Europe ( Under £300 ). We aim to dispatch orders with 1 working day of the time we receive an order but this can vary on different products.We can post worldwide but please message us first for a quote as again. Returns: We are happy to refund, or exchange goods based on the following conditions: Items must be returned to us within 30 days of the day you placed the order. Buyer pays return postage, unless otherwise agreed by us. The goods need to be complete and undamaged with the original packaging. Refund will always be offered as credit to use in store, in some cases we will offer a full cash refund. If items are not quite what you thought, e.g misleading photo/description we will offer a merchandise credit. In most cases this will be minus shipping cost. Although if the item(s) are broken or faulty, or if it was a blatant mistake we'll pick up everything. Bottom line, we want you to be happy!